In this new-age scenario which is completely led by mobile phones, owning a great mobile application development is a requisite for the modern-day businesses. Maybe, this is the exact reason why there has been a massive on-demand app for mobile application development services at the present time. Various firms and organizations are turning towards the cross-platform mobile development services in order to acquire a business mobile app which is well-matched across mobile platforms, no matter be it an Android operating system or an iOS one.
Also read 18 Tips About Mobile App Development You Can't Afford To Miss
Cross-platform mobile app development has been expanding its huge popularity day by day amongst mobile app makers and developers. The hybrid apps developed are easy to use on different platforms such as iOS and Android. Although, there are several pros and cons of cross-platform mobile application development let's discuss them.
Some pros and cons of the cross-platform app development….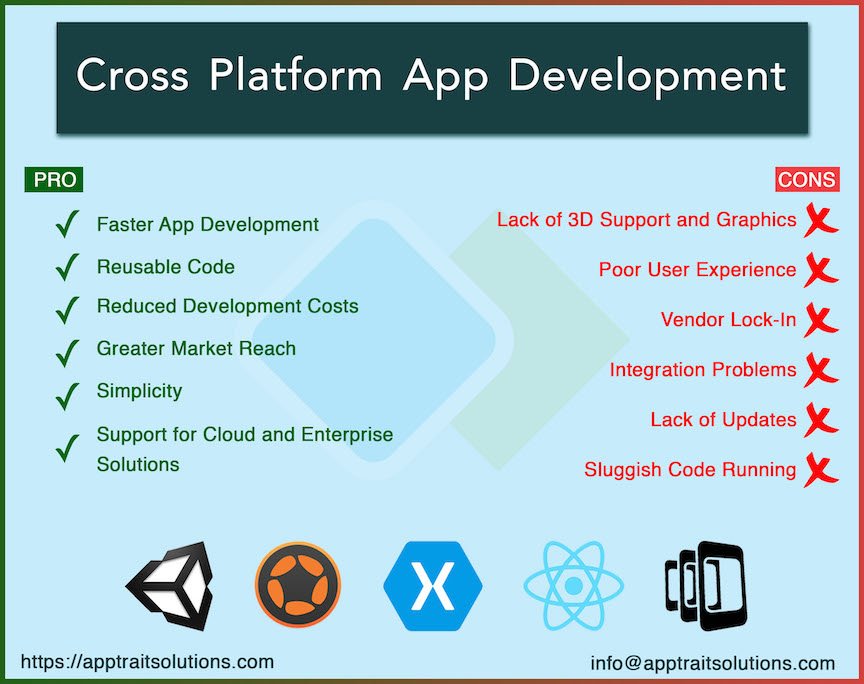 Pros of Cross-Platform App Development
Faster App Development:
This has to be the best advantage for cross-platform app development. By this advantage one code base and using it for different platforms, a developer will trim the time which helps the client achieve their launch date. That is functional across different platforms is also more efficient, using one mobile application.
Reusable Code:
It is not necessary that writer have to write unique code for every platform. Instead of that the same code can be used and customized for all other platforms. A developer just needs to develop one program and then he can use it for all the operating systems the mobile app is to be used on, but he just has to edit the code little bit. Similar code can also be used for future projects.
Reduced Development Costs:
Most of the businesses are not yet building apps because of the charges. However, cross-platform app development is significantly inexpensive since only one code base is used to develop mobile apps. Businesses can now get their own apps on other platforms without spending more on development.
Greater Market Reach:
For business owners, it is now possible to reach a larger audience because your app will be visible on multiple platforms through which they can easily increase their business. Your mobile app will be available on Windows, iOS, and as well other operating systems.
Support for Cloud and Enterprise Solutions:
Now it is very easy to integrate and cloud solutions, on frameworks such as PhoneGap and Titanium. Frameworks like PhoneGap and Appcelerator have so many plugins that developers can use them to enhance the validity, aesthetics, and the app functionalities.
Simplicity:
Changes and customization to these apps are easier and if any updates are there then it automatically synced across the platforms to ensure smooth operations.
Cons of Cross-Platform App Development
Lack of 3D Support and Graphics:
As in today's modern world, everyone wants that the app should be attractive and eye-catching or we can also say it should be HYBRID, but here you cannot enjoy the hybrid graphics and 3D effects.
Poor User Experience:
This is a great concern because every platform and functionality is unique meaning building an app that presents the user experience across all devices and platforms is not easy. Facebook seems to have realized this when it is shifted from a cross-platform app to the native Android app.
Vendor Lock-In:
As Javascript will be used by many cross-platform frameworks but when it comes to the switching of a new platform, your earlier code might not be usable again.
Integration Problems:

With local settings, preferences, and notifications it is not easy to integrate your app. You might also have to use a third-party cloud service for various storage options.
Lack of Updates:
The framework will not have all the features supported by the operating system which you are using. If Google adds a feature to the Android, the framework will have to update the same feature.
Sluggish Code Running:
As we all know that developers have to use too many cross-compliance during development and this lead slow speed.
Therefore, it would be true to claim that Cross-Platform Mobile Application Development approaches with its personal set of pros and cons. The businesses always need to evaluate these and obtain the most appropriate decision for their mobile apps requirements, only after contemplating these options.