Nobody can doubt the Google Play Store account's popularity and dominance in the world of mobile applications and software.
The domain is further cemented by Play Store data, which show that there are roughly 2.8 million apps on the platform and that around 3739 new apps are published every day.
These figures demonstrate how the Play Store for Android is a great place to put your software.
If you're looking for information on "How to upload an App on Google Playstore – Step by Step Guide," you've come to the right place. We've gone over the entire process of Google Play uploads from beginning to end. Let's get started with Google Play publish without further ado.
How to upload an App on Google Playstore – Step by Step Guide
Let's move on to the processes for submitting an app to the Google Play Store now that the obvious is out of the way. To avoid any mistakes throughout the Google app publication process, make sure you follow each step in the correct sequence.
1. Google Play Developer Console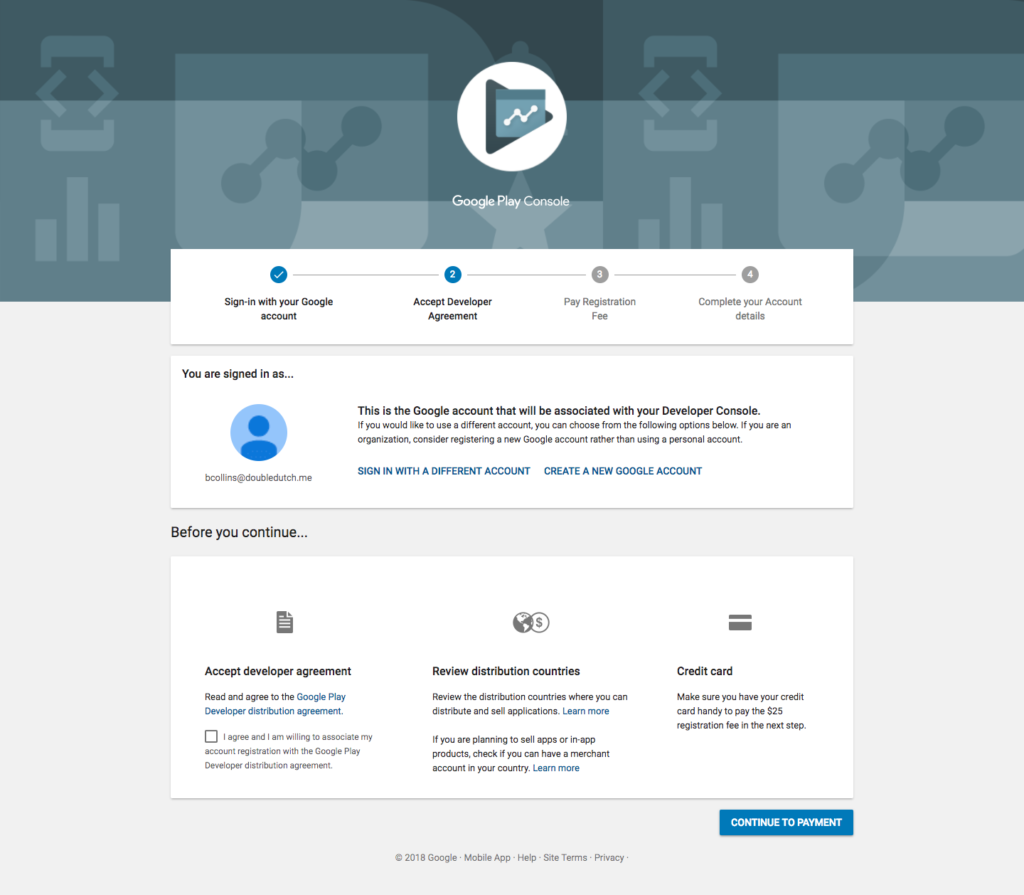 Credit: AppsGeyser Support
To publish an Android app to the Play Store, you'll need a developer dashboard. Developers publish Play Store apps for Android through the Google Play console, which is a form of the backend control center. A developer can establish an account with a variety of functionalities and control features for a one-time price of $25. You may submit apps to the Google Play Store for free after paying this one-time charge.
When making an account, you must provide all of the requested information, including your name, nationality, and other details. It may take up to 48 hours for your account to be authorized once you submit it.
2. Connect your Developer Account to your Google Wallet Merchant Account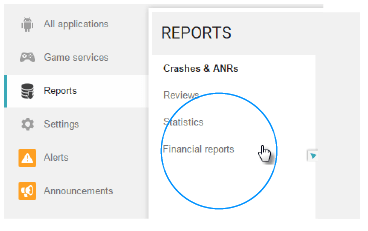 Credit: Swing2app
You'll need a merchant account if the app you're submitting to the Play Store supports in-app purchases. Sign in to your Google Play Console account and select 'Reports', then 'Financial Reports.' After that, go to the 'Set up a merchant account immediately' option and fill in your information.
The merchant account will be linked to your Google Play Console account instantly, allowing you to manage and track app sales.
3. Create App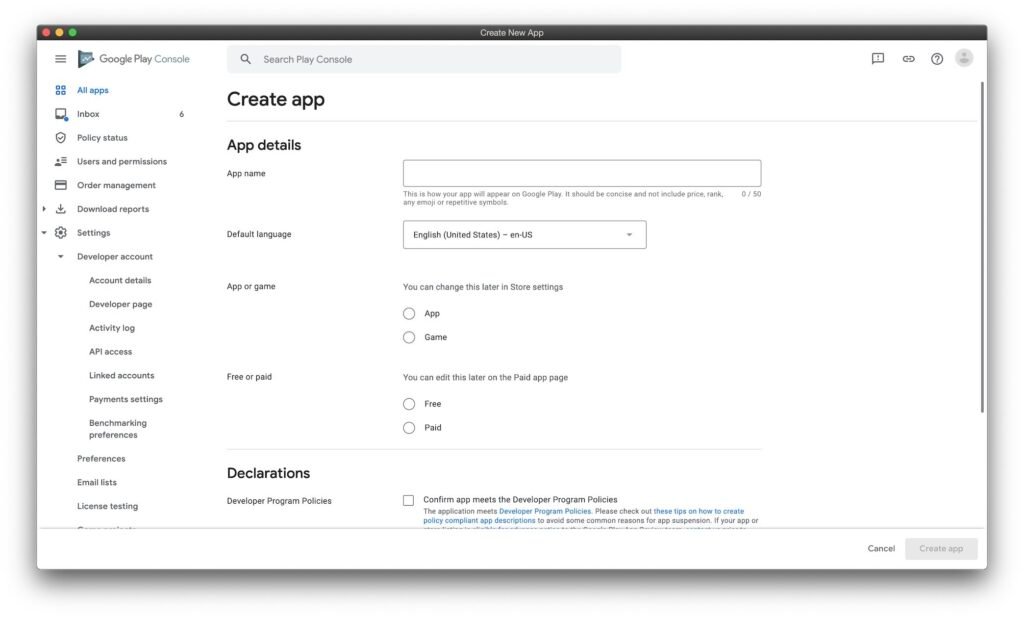 Credit: Nami ML
This is another stage in the process of submitting an app to the Google Play Store.
Here are the steps to submit an app to Google Play once you've logged into your developer or publisher account:
Navigate to the 'All apps' tab in the menu
You will see a 'Create Application' option; pick it
Select the application's default language from the drop-down menu
Enter the title of your application
Now, click the "Create" button
4. App Store Listing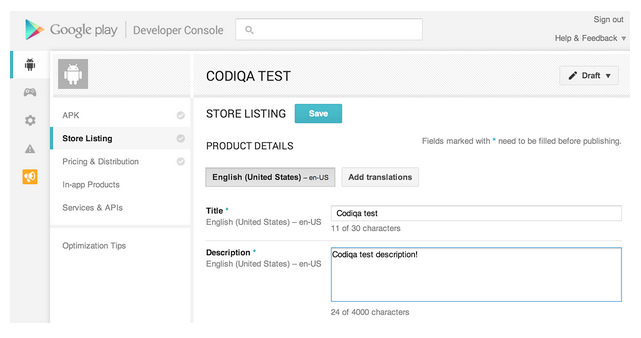 Credit: Process Street
Your preparations will come in helpful when it comes to Google Play uploads.
You must fill up all of the facts and details you have previously prepared with caution in this stage on how to submit an app to the play store. The table below outlines the information you'll need to complete the app listing:
To maximize the likelihood of your app appearing in searches, be sure to include relevant keywords in your app description. Also, be sure to utilize all of the information we discussed in the prerequisites section for app listing.
5. Upload App Bundles or APK To Google Play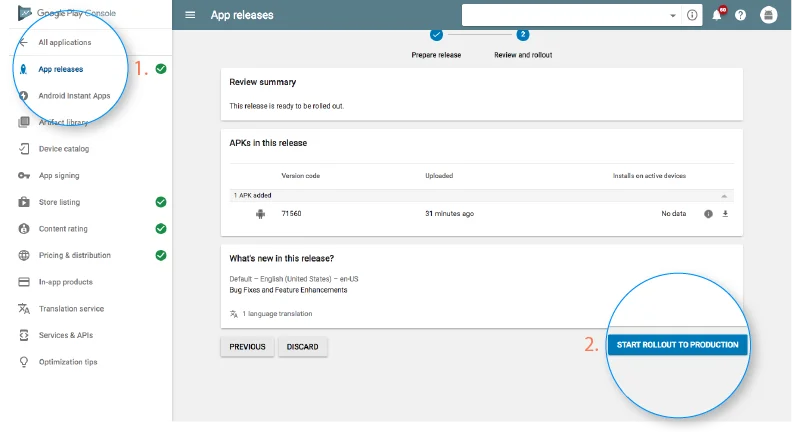 Credit: Appinventiv
You must now use files such as App bundles or APKs, as well as signed app releases, to upload into your application. This is how it's done: Go to the 'Release Management' tab in the menu, then the 'App Release' tab. Following that, you'll be prompted to select one of four types of releases: internal test, close test, production release, or open test.
After you've decided on the sort of release you want, click 'Create Release.'
You will be led to the New release on the production page at this time. You must make another selection here: whether to use the Google Play applications store to sign on to the app or not. If you want the latter, just select 'OPT-OUT' from the drop-down menu.
Select 'Browse files' now, then follow the on-screen steps to learn how to publish an apk to the Google Play Store while naming and characterizing your release. You may also click 'Review' to double-check the data. When you're finished, hit the 'Save' button.
6. Time For Content Rating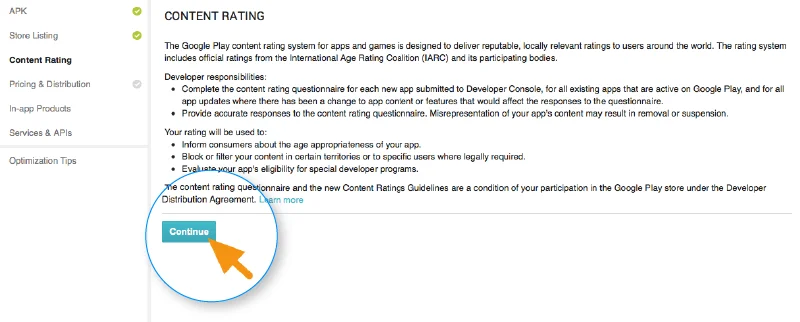 Credit: Appinventiv
The next stage in the process of publishing Android apps on the Play Store is to give your app a rating. Because it is marked as 'Unrated,' it is critical to rating the app before it gets removed from the store entirely.
To access Content Rating, go to the menu on the left side of the screen and pick the same option. By choosing 'Continue,' you may go to the next step, which is to input your email address in the appropriate form and then 'Confirm.'
You may now complete the app rating questionnaire. After that, choose 'Save Questionnaire' and then 'Calculate Rating' to view your app's rating in the Google Play Store. The final step in completing your app's content rating is to click 'Apply.'
7. Fix App Pricing and Distribution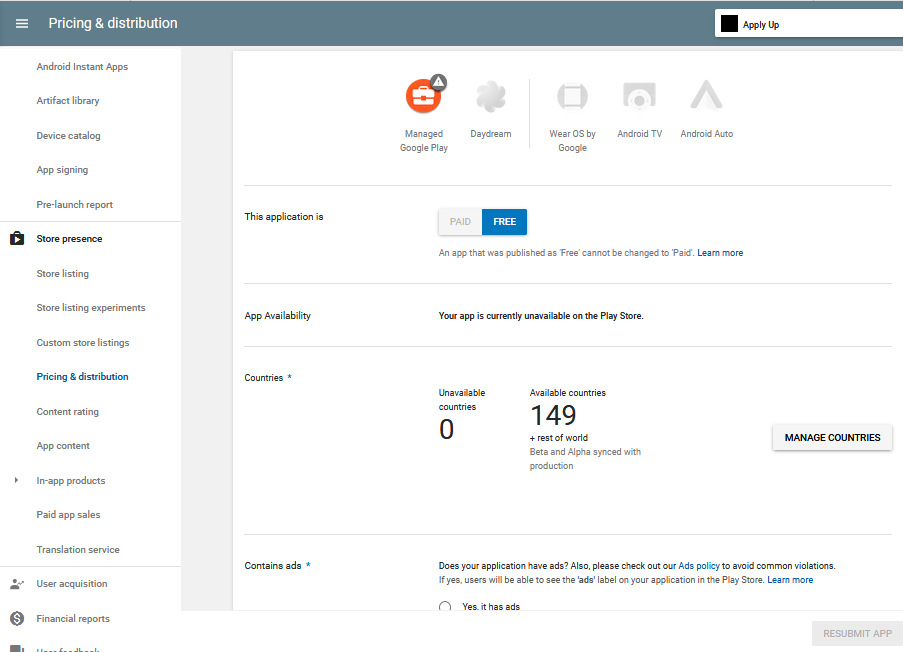 Credit: Cubix
Now you need to figure out which countries your app will be offered in. It's important to know that Google does not enable app publication in all locations. Instead of being released globally, the software will only be available in a few countries.
Furthermore, deciding on pricing for your app is critical. If you want your app to be free, be sure your selection is permanent, as Google does not allow free apps to be converted to paid apps. The app's pricing, however may be changed.
To do so, go to the Pricing and Distribution option in the menu and select whether you want your software to be free or paid. You may now choose which countries your software will be distributed in. Additionally, if your application is intended for children under the age of 13, you can check the box for Primary Child-Detected and select 'Yes.' If this is not the case, simply choose 'No.' Select the choices for permitting adverts inside your app in the same way.
8. Publish the Application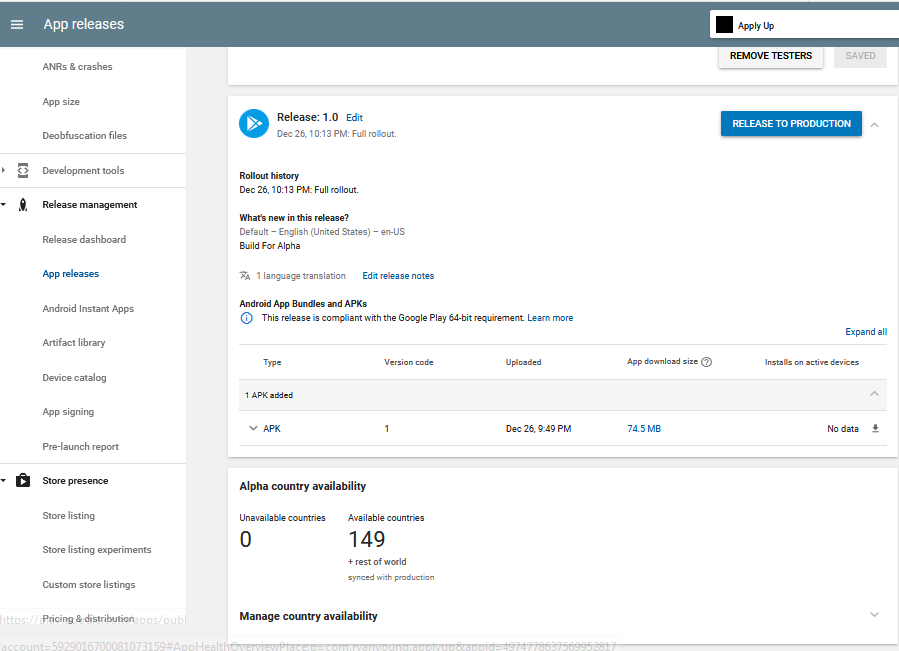 Credit: Cubix
Once you are confirmed about everything is correct, take the last step of this guide on how to upload an Android app to the Play Store, i.e, add the application to the platform. You need to go back to the 'App Releases' tab and then select 'Manage Production' followed by 'Edit Release'. After this, click on 'Review' and then choose the 'Start rollout to production' option. To bring this process to an end select the 'Confirm' option and Voila! You have successfully uploaded the app to the Google Play Store apk account for free.
Once you upload the app to the google play store for free, all there is left to do now is to just wait for your application to get approved. It generally took about two hours for your application to get reviewed. But with apps store Google Play's updated privacy policy, it will now take hours and even days for the same, encouraging mobile app development companies to create even more flawless applications that get selected instantly. So, hold your excitement in place and just wait.
Conclusion
We hope you find this post useful when it comes to submitting your app to the Google Play store. Following the submission of your app to the app store, you must engage in the active promotion to attract customers to your app.
As a result, an app's success necessitates continuous efforts to stay ahead of the curve. Get in contact with us if you want to learn more about developing an app or promoting it. We are an app development company that provides the best app solutions to businesses all around the world.
FAQ
How Long Does It Take to Publish an App on the Google Play Apps Store?
An app is typically published on the Google Play Store in two days. However, Google estimates that the screening process might take a week or longer.
Is publishing an app on the Google Play Store free?
Yes, there is no cost to publish an app on Google Play. However, to upload an app, a developer's account is required, which requires a one-time payment of $25 to establish. Following that, you are free to submit your Android apps for free.
How much does it cost to publish an app to the Google Play Store?
To publish an app on the Google Play store, you'll need to sign up for a Google Developer Account, which costs $25 one time. After that, you may start uploading your applications.
What Should You Do After Submitting Your App to the Play Store?
You might be wondering, "Now what?" after your query about "How to launch an app on Google Play Store" has been answered. We've got you covered on that front as well. Here are some things you can do to make sure your app gets a lot of exposure on the Google Play store.
1. Start the Press-Release
Another strategy to market your company is to issue a press release. This will bring your brand into the spotlight, and numerous newspapers will cover your app's launch, allowing your app to reach a larger user base and build a genuine relationship.
A press release that includes the words, characteristics, and insights of the mobile app developers, as well as the app itself, has shown to be an effective app marketing strategy. It's a terrific example of demonstrating to people that what they expect is beneficial.
2. Use Social Media to Promote Your App
Social media is an excellent way to boost the popularity of your app. The fact that social media is used by 42 percent of the world's population suffices to support the claim. Facebook, Instagram, Linkedin, Pinterest, and a slew of other social media sites are continuously in use. As a result, advertising your software on various platforms will result in more traffic and, eventually, downloads.
3. Concentrate on app maintenance and updates
You can't just put your app on the app store and forget about it. You must efficiently manage your app and release regular updates, while also reacting to user problems and bugs. Maintaining anything is a continuous process, not a one-time event. As a result, ensure sure your app is up to date with the newest app stack and that any issues are addressed.
4. Make use of ASO and practice
All of the leading Android app development businesses use App Store Optimization as a standard procedure. ASO, as it is often called, focuses on operations that target characteristics that might increase the attention and exposure of your app on the app store. These methods are aimed at boosting the rate at which impressions are converted into app downloads.