Affiliate marketing is a $12 billion industry worldwide, with the United States accounting for $6.8 billion of that total. Affiliate marketing is still a high-performing channel, even in difficult times. Affiliate marketing was recently identified as a highly in-demand talent for marketers*. This is due to the great earning potential for both advertisers and affiliates. That's why we will guide you to start affiliate marketing.
Affiliate marketing (Digital Marketing) may generate up to 30% of total income for businesses, with an average return on investment (ROI) of $15 for every dollar spent. Affiliate publishers with attractive relationships, on the other hand, can make up to $10,000 per day*. Or, at the absolute least, through brand collaborations, they may diversify and level up their profits.
This complete guide, how do I start affiliate marketing, whether you're a novice or prospective advertiser, or affiliate. It's a step-by-step tutorial that will show you how to get the most out of the channel. Also, you can see the web development projects for beginners
Want to know for developing an app for IoT device – How to create a mobile app for IoT Device
What is Affiliate Marketing?
Affiliate marketing is the practice of advertising the products of others in exchange for a small fee on each transaction. Many of the websites you frequent undoubtedly have "affiliate link" or "sponsored post" headlines, or perhaps you've already taken the first step and joined an affiliate network.
Let's go through how affiliate marketing works if you're new to it.
To begin, look for an affiliate program or network that interests you. Examine the program's summary, which includes the types of items or services available, payment options, and commissions.
Sign up if it interests you and waits for confirmation of your approval. Then begin developing material by incorporating the program's unique links. When one of your users makes a purchase using those links, you'll get a modest commission.
You can work for specific firms or affiliate networks, where you can register and pick and choose whatever programs you want to participate in. To make it easier to choose, the programs are often grouped into categories. Start marketing your affiliate links on your website, in newsletters, on social media, and everywhere else you're allowed to distribute them after you've been approved.
When you achieve the minimum payment threshold, the network gives you a payment. PayPal, bank transfers, and cheques are the most common payment options.
Three parties are involved in an affiliate program:
The affiliate
The enterprise or brand
The software as a service (SaaS) solution/affiliate network
Advertisers can utilize a SaaS solution to manage their affiliate network or partners. We'll go through this in further detail later.
Breaking down the affiliate's trip and looking at the route to compensation is the best method to illustrate how an affiliate program works.
Is Affiliate Marketing Worth It?
Why should you begin with affiliate marketing? Here are a few benefits of blogging over other methods of earning money.
1. Monetize Your Blog From Day 1
You don't have to wait till your new blog has a large audience to start making money from it. Affiliate links are effortlessly and organically incorporated with your content, so even if you start monetizing your site from the beginning, it won't appear amateurish.
2. Earn Money Even Without a Massive Following
Unlike other forms of monetization, such as advertising, you don't need a large number of visitors to start generating money. All you have to do now is make sure that your website is getting the RIGHT visitors, who are interested in reading your product suggestions.
3. Generate Passive Income
You may publish a single blog post advocating an affiliate product and have that article produce money for you over and over again using affiliate marketing.
This is referred to as passive income. Any revenue that does not involve any effort to generate and keep is referred to as passive income. Why not earn money while you're at it? You're already writing blog entries and probably recommending goods you enjoy, so why not make money while you're at it?
4. Make MORE Money
You make money through affiliate marketing based on the number of successful recommendations you create. For example, you might earn up to $59.90 per referral if you successfully promote a premium product like WPForms.
Assume that your affiliate conversion rate is 2%. That means two individuals will buy the goods for every 100 recommendations you send to the affiliate website. That implies you may earn $100 from those two recommendations regardless of the size or reputation of your website if the affiliate commission is $50 per transaction.
Now let's look at how much money you can make through advertising.
AdSense, the world's largest advertising network, with an average CPC (cost per click) of $0.15. The average CPC you may make through AdSense is determined by a number of variables, including the size and reputation of your website.
For example, if your average CPC is $0.25, you can make $25 for 100 ad clicks; but, if you use affiliate marketing, you may possibly earn $100. Affiliate marketing is, without a doubt, a superior technique to generate more money.
Who are the affiliates?
An affiliate sometimes referred to as a publisher, can be a person or a business. These are usually other bloggers or content providers who work in the same field as the product they're generating.
They create material such as blog articles, videos, and other media to assist advertise the product or service.
They may also market their content by running advertising, catching search traffic through SEO, or establishing an email list to generate sales.
The affiliate receives a commission when one of their visitors completes a transaction, such as making a purchase or filling out a lead form. The affiliate program's conditions determine how much compensation is paid.
Who are the merchants?
A merchant, also known as a product maker or an advertiser, is the person who comes up with the idea for a product or service. People or other firms (affiliates) who have a large following on their brand are eligible for revenue sharing and compensation.
The merchant may be a firm like HubSpot, which pays affiliates a commission if they can encourage their visitors to make a purchase.
It may also be somebody like Pat Flynn, who has an affiliate scheme for his podcasts.
The merchants can be anyone, from a sole proprietor to a large corporation, as long as they are prepared to compensate their affiliates for assisting them in gaining a transaction.
In certain cases, such as the Amazon Associates Program, the merchant does not even have to be the product originator.
Who are the affiliate networks?
An affiliate network is a service that connects businesses with their affiliates. Although a network is not always required, some businesses choose to collaborate with one to offer a layer of trust.
The relationship is managed by the network, which also acts as a third-party check and balance. Third-party checks are useful because they reduce the likelihood of fraud.
ClickBank and ShareASale are two prominent networks.
Because they lack the time or resources to maintain, report and administer payments to affiliates, several merchants opt to partner with an affiliate network. Within the affiliate network, they may also choose to cooperate with numerous affiliates or publishers.
Choose the right affiliate product
When it comes to advertising affiliate items, everyone has their own set of norms and beliefs.
ShoeMoney, a successful entrepreneur and affiliate marketer, once stated that he does not promote private affiliate items until he has seen the owner in person to determine whether they are a trustworthy person.
Here are a few tips for selecting the best goods to promote on your blog.
Encourage others to utilize and enjoy the products and services you enjoy
Join an affiliate network like ShareASale and look for reputable items in your field
Refer items with a money-back guarantee so that your reader may get their money back if they make a mistake and buy something they don't want
Now that you have a clearer idea of the kind of things you want to advertise, the next step is to join up as an affiliate for those products and obtain your affiliate link.
Using the Correct Keywords, You Can Attract the Right Audience
To create affiliate sales, make sure you're targeting the proper people who are interested in trying out the service you're promoting.
Now the question is: how can you tell if your blog is bringing in the proper kind of visitors and what their goals are?
If you're like most bloggers, Google is the most important source of the traffic to your website.
If the search engine traffic you drive has an investigative motive, you're more likely to make affiliate sales from your site.
In general, there are 4 types of user intents:
Navigational intent: Users looking for a certain website. They simply want to find the website they're looking for.
Informational intent: Users are looking for answers to their specific questions.
Investigational intent: Users are looking for information that might lead to a transaction.
Transactional intent: Users are willing to pay for a product or accept a free download.
You'll want to rank your site for investigational keywords as an affiliate marketer. When a potential customer isn't ready to buy a product, they employ exploratory keywords. Before making a final purchase choice, they want to compare items and look for reviews and suggestions.
The following are some of the terms you'll frequently encounter in investigative keywords:
Best
Review
Compare
Alternative
If your site ranks for keywords that include these phrases, you're most likely attracting the correct audience.
Go to the queries report in Google Analytics and navigate to Acquisition » Search Console » Queries to view the exact searches your users used to locate your site on search engines.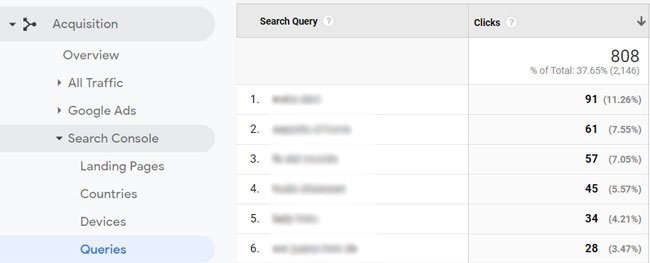 Credit: Blog Tyrant
Promote Your Affiliate Products Within the Content
Writing a thorough piece of long-form content and incorporating your affiliate as an inherent part of that material is one of the best methods to create a long-term affiliate income.
This technique appeals to me since you gain from the first promotion as well as all of the long-term traffic generated by your blog's Google rankings.
It's also convenient because it eliminates the need to force the stuff down people's throats. You just suggest that this or that product is a suitable fit for that particular stage of the process.
I strongly advise you to install Pretty Links, one of the finest affiliate marketing plugins, before adding any affiliate links to your WordPress blog.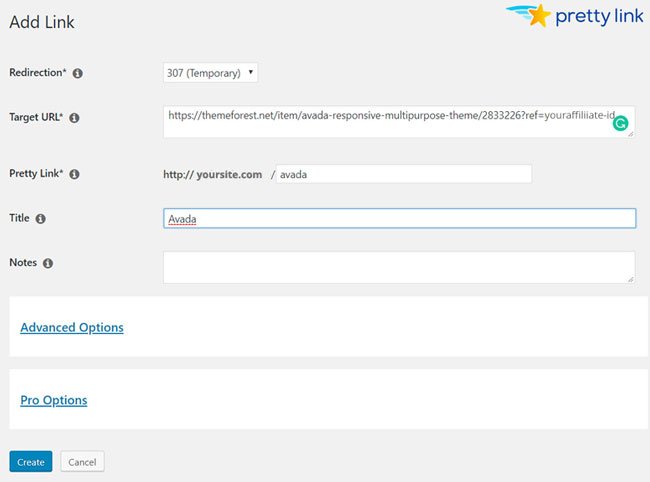 Credit: Blog Tyrant
Pretty Links helps you cloak the affiliate links that you promote on your website.
Affiliate links are typically long, ugly-looking URLs like this:
http://example.com/products/?product_id=123&affiliate_id
Pretty Links helps you cloak such affiliate links and make them shorter and neater:
http://www.yoursite.com/refer/productname
Additionally, you can manage your affiliate links from a single spot on your WordPress dashboard with this plugin. The advantage is that you won't have to dive deeper into your blog archives to modify the affiliate URL if the firms change it in the future. It's simple to update it by just updating your affiliate URL in the Pretty Links dashboard.
How does affiliate tracking work?
Affiliates are given tracking links that track their clicks by advertising. Some affiliate networks let you personalize the appearance of your links. Affiliates can connect to specialized landing pages that many businesses establish on their websites.
Brands can use one of the following tracking approaches to track individual conversion events:
Javascript: The most often used form of tracking. Javascript tags may record a wide range of data, which helps with reporting and commissioning. Real-time tracking of clicks, conversions, and website behavior is possible with Javascript tags.
Image pixels: Clicks and conversions are tracked using a less reliable tracking mechanism. Real-time monitoring is still possible with image pixels, albeit with fewer data points.
API calls: Application programming interface (API) calls, also known as server-to-server tracking, provide conversion data to a SaaS platform or affiliate network via a web service API call. API calls do not require cookies to function and can be used in real-time or at predetermined intervals. This is the most future-proof methodology* that is currently available.
FTP tracking: The different types of server-to-server tracking This technique receives or pushes tracking data over an FTP server. Advertisers produce a ".CSV" file containing all of their website conversions and upload it to Impact through FTP.
For the time being, they are all viable tracking options. However, bear in mind that Google has stated its intention to erase all third-party cookies*. APIs remain the most dependable tracking technique to prepare for this development and futureproof your affiliate program. They don't use third-party cookies and allow companies to get around browser restrictions.
APIs allow advertisers to connect with tech platforms. Because APIs do not use browsers as middlemen, the quantity of data transferred is reduced. Attribution is further improved through the API track.
How to Make Even More Affiliate Income
Let's look at how to make even more money by suggesting things on your site now that you know how to get a head start with affiliate marketing.
1. Track the Clicks on Your Affiliate Links
While practically every affiliate program allows you to measure affiliate link clicks, it's in your best interest to use Google Analytics for affiliate tracking as well. That way, even if the products utilize various affiliate programs, you can compare the success of each affiliate link on your site.
Installing the MonsterInsights plugin on your site is the simplest way to track affiliate link clicks. MonsterInsights is the most popular Google Analytics plugin for WordPress, and it includes many useful features for publishers, like download monitoring, affiliate link tracking, outbound link tracking, and more.
If you keep track of affiliate link hits on your site, you'll be able to…
Recognize the affiliate items that your target market is interested in
Determine which affiliate items are the most successful
Determine the page on which you receive the most clicks
From your Analytics account, find out how much traffic you send to each affiliate product. This allows you to effectively bargain with employers for higher salaries
Check to see if there are any affiliate link chances that have gone unnoticed and more
2. Exit-Intent Popups Can Increase Your Affiliate Revenue
Did you know that 70% of your site's departing visitors would never return? You may present an affiliate offer to your visitors just as they're ready to depart using an exit-intent popup.
When a user is ready to depart, and exit-intent popup detects mouse movement and prompts them with a tailored campaign, such as an affiliate offer. To construct an exit-intent popup, you may utilize OptinMonster, the greatest popup solution ever made.
3. Drive Traffic to Your Article With Facebook Ads
If you have a high-quality instructional piece of content, you may use Facebook Ads to send some attention to that post.
The good news is that if your affiliate product has a high payout price (like more than $50), you may make a lot of money even if you spend some money on marketing. You may perform fairly well as long as your page converts and the niche has adequate traffic.
If you take this approach, make sure you monitor and test everything so you know precisely what is converting and why. Try not to make too many educated guesses because you never know what's driving sales.
4. Incorporate the Affiliate Product Into Your Email List
Promoting an affiliate product to your mailing list once people join up is one of the most potent methods to bring more affiliate money to your site.
The reason this is so effective is that…
It's automatic and ongoing: Follow-up emails may be sent to any subscriber that signs up for your list using services like Constant Contact. You can make one or a hundred emails at once and never have to touch them again.
It's perfectly branded: If your blog and mailing list are both tight and on-brand, an affiliate promotion woven within some useful mailing list material will be a wonderful match. It just happens as you go about your business of assisting your subscribers.
It's critical not to say things like "Go out and buy X product right now," since this is just too forceful. Rather, you should continue to provide tremendous content and only highlight affiliate items if and when they might benefit a subscriber.
5. Highlight Your In-post Messages With Graphics
To ensure that your affiliate mentions are seen, highlighting them in your content is an excellent method.
This may be done in a variety of ways, and you'll need to evaluate the results for your own blog and individual blog posts.
One option is to utilize a plugin like Shortcodes Ultimate, which allows you to quickly add buttons, quotations, highlighted text, and other elements.
A snapshot of all the numerous things you can do with this plugin is shown below.
6. Build Backlinks to Your Articles
Backlinking to your affiliate post is an excellent technique to increase traffic to your website.
If you obtain a guest post on a high-authority blog, for example, you'll want to produce an article that allows you to organically cite your original piece. If the item isn't a blatant "purchase this product" sort of article – especially if it's a high-value piece – blog owners will accept it.
I'm not afraid to link to our how-to-start-a-blog tutorial when I do blogging guest spots because it's one of the largest on the web.
Keep in mind that the more labor and value you put into your guest articles, the more shares and links you'll get.
7. Become an Expert at Using the Product You Want to Promote
Some of the most successful affiliates get their success by mastering the usage of the product or service, either directly or as a sideline to their main company.
For example, on DPS, Darren Rowse has a number of photographers who take outstanding photographs using Canon and Nikon SLR cameras and then promote those cameras in their articles and/or lessons. Although he would not sell or promote such cameras directly, he would make a lot from individuals who are encouraged to buy after witnessing what is created.
The same may be said for folks who are inspired to start a podcast after seeing Pat's and wish to replicate his setup.
Consider creating more material that demonstrates your ability to use the actual product or service if you want to increase your affiliate product sales. Give folks an understanding of how strong it is, and how effective you are at using it to achieve your goals.
That's it!
I hope this article has been helpful in getting you started with affiliate marketing.