Have a next billion-dollar app idea?
Wow, that's wonderful. But what next?
Plenty of individuals have an app idea and they stuck at how to create an app?
Yes, it's true, the journey of app creation starts with an app idea, a unique one. But then, that just the start and the idea alone is incompatible with competent solutions.
Either hiring a developer or a hiring a development company appears to be the optimal alternative, yet being the app inventor, it is desirable to do a pre-run on the entire phase of app development.
So, how to develop an app?
From where do you need to start? And how?
Well, don't think too much. To ease your doubts, we have enlisted 10 steps to help you walk through the phase of app development.
Let's make an app...
---
Step 1: Draft Your Goal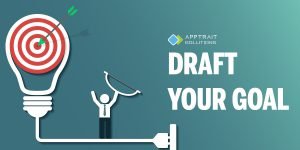 Before you move on the process of app development, you need to first set a goal and sketch the same. The entire idea behind setting up a goal is to paint the functionality of your app. Enlist the features that would you integrate within your app and see how each combines to render the desired solution. You need not use high-end technologies but a simple notepad can be used to outline the goal of the app. Also, it isn't necessary that your stuff your app with a multitude of features. Add one but make sure this works effectively.
Also check, why you should have plan for marketing strategy?
Step 2: In-depth Market Research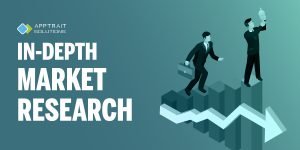 Scanning the existing market to find out loopholes or drawbacks is the best way to stay ahead of your competitors. Often, developers skip out this step failing to realize that performing market research eliminates the possibility of making mistakes. Further, reaching out to the potential customers help define what exactly do they expect from an app like yours. Knowing what your users want help to develop an app that stands at par with user expectations.
Read also, 8 mobile app marketing tips you should consider while deciding the marketing strategy
Step 3: Sketch A Mockup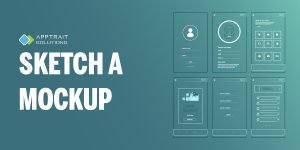 Now before you actually start programming, draw a, a rough sketch of the different modules, elements and UI and the way they interact. It is simply a layout of your app. You need not be highly technical here. Just a rough draft showing what the app would strive to attain. It helps the developer walk through the app virtually seeing how data flows within the app. In case you are working for a client, using mockups are the best way to give a virtual image of the app.
Also check, 18 mobile application development tips, you must follow
Step 4: Mobile App Design / UI Design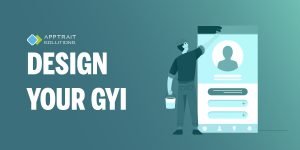 Here, we step in the actual view of the app. If you are good at it, you can design the app graphics all by yourself or in the other case, prefer hiring one who excels as a graphic designer. You can use existing templates if you opt for DIY designs. However, be cautious about the rights and usage policies. Software such as Photoshop, Sketch and Affinity Designer are extremely handy when it comes to graphic designing.
Also check, guide on how to design a mobile app?
Step 5: Build an app landing page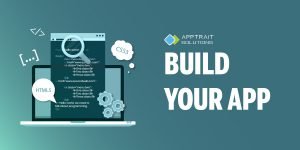 App marketing is one of the fastest-growing means of advertising and hence, building a landing page is more of a necessity. An effectively created landing page entices app visitors to convert to potential users. The page itself voices on the idea behind the app, what it strives to attain, followed by a call to action giving users the platform to connect. Of all the important and not-so-important feature, a landing page must have :


Headline
Definition of app
Screenshot of the app
CTA
Features Present
About Us
Also check, how landing page can boost the conversation rate?
Step 6: Build Your App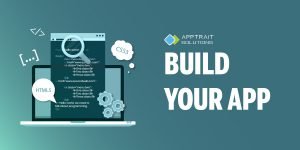 Now, it's time to code for the app both front end and back end. Based on the features you have listed in earlier steps, you can now plan and develop the app. You can use various tools and frameworks to ease the process of app development. The front end is the real-time user interaction on the app. And the data fed or retrieved from the app gets stores in the back end database. You need to integrate the front end and the back end so as to turn the app capable of functioning effectively.
Step 7: Launch The App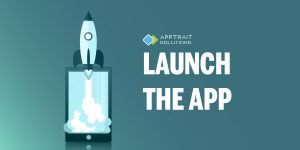 After you are done with the process of designing and development, now you can launch the app on the PlayStore.You need to first sign in as a developer, then put up an app icon, brief users on your app and then use AppBuild to upload the same. After reviewing and scrutinizing, the app would either be accepted or rejected(if it disregards certain rules). And you are done now. The tiresome process of app development has come to an end and finally, you see your app pop on the PlayStore.
Step 8: Market Your App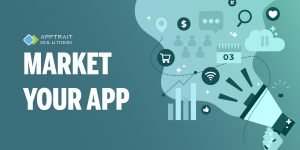 Simply having an app would not generate revenue. You need to marketize your app so as to reach as many users as possible. Finding the right section of the users, you need to target the app to them and try to improve the conversion rate.
Also check, 5 ways to skyrocket your app downloads
Step 9: Modify and Update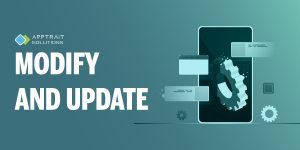 Updates and alternative releases are important. You have created an app but then, there might be few issues notified by app users. It's your job to mend them and update your app as many times as needed. User feedback is the best way to find what they think of your app and also outline ways to improve your app functionality. Fix things that are important and conduct surveys to find if the updates version maps users expectations.
Trust me, this is by far the best way to attract users. Go ahead and give it a try.
Step 10: Respond To Negative Reviews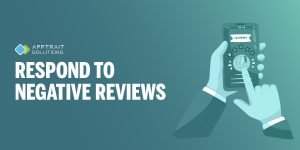 A study says that more than 80% of people trusting online reviews. Nobody likes to get a bad online review. Of course, Such reviews can also severely affect your app position and discoverability. However, with the help of a simple communication strategy, you can deal with all the contradictory reviews, along with encouraging greater customer loyalty and engagement. Dealing with a negative review in a positive way requires a cool head. Look at the positive in the negative.
Also Read, How to turn negative Reviews to positive
Conclusion – How to create an app?
You might once in a while, think to make your own app and trust me, there ain't anything wrong in this. All you need to do is plan effectively and execute strategically. Working on a well-thought idea helps aids faster app development. So, build momentum and start with your mobile app development.