India has emerged to be one of those accomplishing nation's that have taken technology too seriously. Over the period of time, India has been into constant incorporation of technologies that help both enhance and enrich the nations capability on a whole. Be it the developers, the entrepreneurs, or the CEOs, all are qualified,  skilled and contribute to the growth of both their company and the nation. Needless to state that, India owns the big IT industries, from TCS to Wipro and Infosys. And it's we the Indians that work all day long to draft success and make a difference.
India as of now is the fastest evolution nation which along with China accounts for around 45% of the total global growth. India has given a lot to the world. Right from Aryabhata zero to Sundar Pichai's world of apps, India forms the base of most of the inventions. And the list does not end here, there are a lot more. CEO of Deutsche Bank or the one at IGATE are Indians. Indians are professional but a lot more dedicated and own the zeal to bring out the best. And yes, they cover all sectors, pharma, technology, science or sports.
We rule everywhere.
India A Nation That Bleeds Success
According to a survey conducted to find the nation that has the maximization young technocrats, India is placed in the second position. A country of curious and brilliant minds, who churn out an idea every other day. Multiple successful entrepreneurs consider India to borne pool of talented youths.
Tim Cook, Apple CEO, in his interview, stated that the only thing he sees in India is talent. Andrew Krieger, the chairperson of IMBG project stated that India has tremendous genetic capabilities. Undoubtedly, India hails in talent and the biggest asset the nation owns is its people. India is known by its people and their talent speaks for the nation.
Want To Hire Best Indian Mobile App Development Company?
We are the best mobile app development company according to GoodFirm and clutch. Shoot a mail for further assistance.
Why an Indian App Development?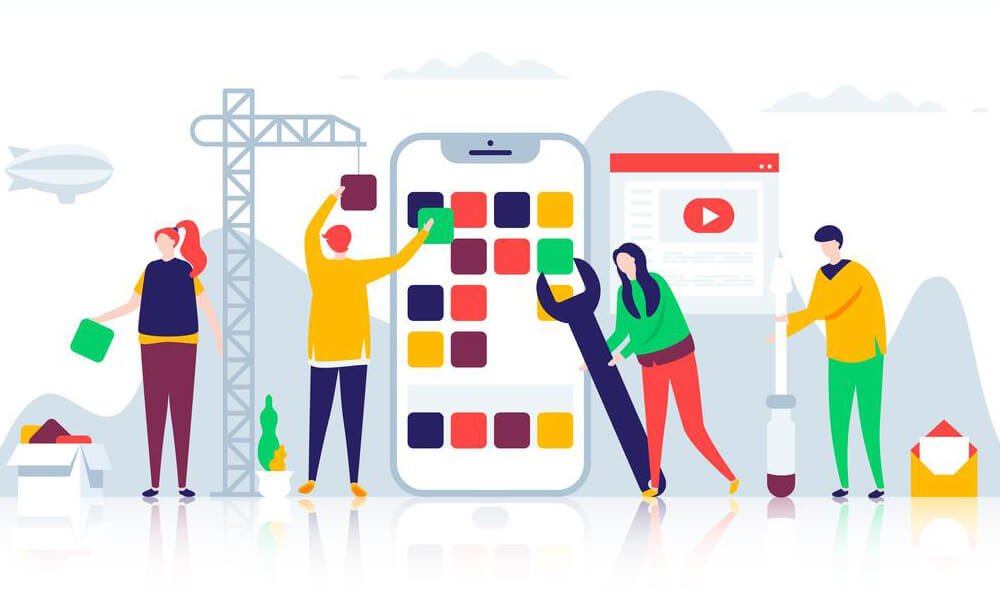 Undeniably, you would now have an idea about what India has and where does it stand. Technological advancement and IT growth have opened doors for plenty of opportunities for all to try their hands on. India has also taken a massive leap by inducing apps to keep up with the pace of life across the globe. And not just India, every nation now keeps on updating their technology to stay ahead of their competitors. 
As of now, nearly 77% of the total market share globally is dominated by Android OS. Seeing such a huge percentage, entrepreneurs look for building apps to boost their business. However, deploying an app for your website isn't easy. There are a bunch of specs you need to consider before deploying an app. And the one that ranks high is the cost of app development followed by the features to be induced so that your app stands out in the market. All of this relies solely on the resource chosen to build an app. Though there are plenty of options ranging from hiring a freelancer, or a team or a mobile app development company, the one that is of utmost importance is hiring an Indian. 
You might definitely be stopped by this question, why hire an Indian mobile app development company. Being a US citizen you will no doubt prefer a local company for hassle-free communication yet considering an Indian mobile app development company would turn odds in your favor. 
Wondering Why? 
Have a look
No doubt the competition is rising each say and the urge to stays ahead compels all to focus on the satisfaction of clients on a whole. The corporate industry thrives on clients and only if they are satisfied, will they prefer you time and again. And Indians excel in this. Nearly all developers hit on customer satisfaction using tactics that provide quality apps while having a friendly approach.
Apps vary with the market and so it is desirable to scale up or down a project to abide by the market needs. Indian developers have this excellent quality of meeting deadlines no matter how much modifications you induce all the while. After all, satisfaction is the outcome of Scalability.
The best thing about Indian developers is the fact that they are easily customizable. Whether you want a short team or our budget low, Indians have a solution for them. They work as per the need of clients and optimize as and when required.
Hazzle free communication
Another advantage of hiring an Indian mobile app development company is their mode of communication. They are well versed in English and can gracefully communicate having a clear idea about the needs and business requirements. Indians promote real-time communication and keep you update once every week.
Needless to state that India has a pool of engineers and talented developers who excel in converting your ideas to feature centric apps. Mobile app development companies in India have a sea of young talents both fresher and experienced to give you the service as desired.
Indians promote secured means of developing apps. Project security and confidentiality are of sheer importance to them. A duly signed NDA affirms the app safety. It prevents information of your app from being portrayed on the company's portfolio keeping it tread safely.
The last but not the least. Indian app developers do not cost you much. They would not appear harsh on your pocket. Having said that, it does not specify poor quality. They offer a perfect blend of quality rightly priced and on time delivery. You need not extend project timelines only because of other end delays. Where an American would charge you $150 per hour, an Indian developer seek a maximum of $45 per hour. So, the catch is yours.
So, if you are looking for one such Indian mobile app development company, reach out to us. We are a team of skilled developers who excel in building apps for diverse platforms giving an end to end solutions. Transparency and flexibility are our keys to success. We cater to each and every requirement of clients and are ready to put in all the efforts required to deploy a feature-rich app. We have been featured as a Top Custom Software Development Company on  SoftwareDevelopmentCompany.co. We AppTrait Solutions provide you Best Android App Development Services at prices acceptable by you.